---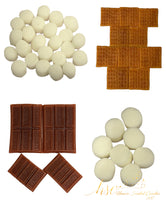 A popular traditional campfire treat formulated with wax for pure enjoyment of a candle creation or wax melt / embed.
Marshmallows- A sweet marshmallow scent
Chocolate Bars- A smooth milk chocolate scent
Graham Crackers- A sweet, vanilla and spice Graham cracker scent
The kit includes a variety of small or large marshmallows, half and quarter chocolate bars and whole graham crackers
Disclaimer: Colors may vary dues to several batch creations. 
No substitutions allowed kits are sold as advertised.
These embeds are handmade, there will be minor imperfections. These imperfections will not interfere with the embeds functionality.