---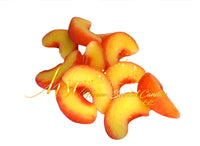 Smells amazing
Absolutely love all your embeds they all always smell amazing. Thank you
Our bite size peach slices are created with our very own exclusive exotic fragrance oil mixture, premium blend of waxes. The Hand painted using wax dye to replicate a real mini peach slice. 
qty. 40-45 peach slices in each container✨
Warning-This is not a food product. DO NOT EAT!
Warning-Colors may very due to creations of multiple batches.
 These embeds are handmade, there will be minor imperfections. These imperfections will not interfere with the embeds functionality.
Smells amazing
Absolutely love all your embeds they all always smell amazing. Thank you