---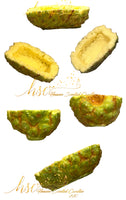 Pineapple Bowl Wax Vessels
Received quickly unbelievable smells Awesome and I reordered once I received these..🔥🔥🔥🔥
 These hand painted vessels were created with a pillar soy blended wax, infused with our signature Pineapple Colada blend. They inner vessel hold around 6oz of wax. The estimate weight of the entire vessel is about 16oz once filled. The diameter 4x6 inches. 
Disclaimer: Colors may vary due to multiple batch creation. 
Items are not for resale.
These embeds are handmade, there will be minor imperfections. These imperfections will not interfere with the embeds functionality.
Pineapple Bowl Wax Vessels
Received quickly unbelievable smells Awesome and I reordered once I received these..🔥🔥🔥🔥